21 Jan

How to choose your veil, by Daisy Day.
Choosing a Veil
Choosing a veil to match your wedding dress can be a very daunting prospect, particularly while there is lots of lingo that doesn't immediately seem to make sense. To make matters worse there are so many things to consider; your dress, face and body shape, hair style and your wedding venue…
The aim of this page is to help clarify a few things and prepare you for the fun of veil shopping!

The Dress
This is the most obvious consideration that most people would think of first. Your dress probably has the largest impact on the veil that you choose, for example if you have a very detailed dress then a longer, plain style that shows off embellishments might suit your outfit best, if your dress is simple and elegant then you can go "blingy" and have a veil that really sparkles.
To show an area of the dress off you should either avoid covering it with a veil or completely cover it with a sheer veil. It only tends to be extremely formal weddings that have a very intricate dress and intricate veil – a look that is often over the top for modern weddings.
One piece of generally accepted advice is if you have a Tulle skirt then a raw edged (no trim) veil will suit the dress the best as veils trims against tulle can often look dark and grubby.
Other than that you need to think about lengths, colours, edging and decorations…
What Length?
There seems to be an almost endless list of veil lengths that can confuse a bride to be, I will try to simplify this down to 4 basic lengths…
There are 2 different ways to measure a veil depending on whether it is a single tier (no bit that folds over your face) or double tier (has a bit that covers your face, this is called a blusher).
In both instances you measure from the comb to the bottom of the veil train and for a double tier veil you add on the distance from the comb to the top of the blusher.
This does mean if you see 2 veils that are about waist length and one is double tier and one is single tier then they will be labelled as different lengths – most likely 72" for the double tier and 43" for the single tier!
Face Veils or Bird Cages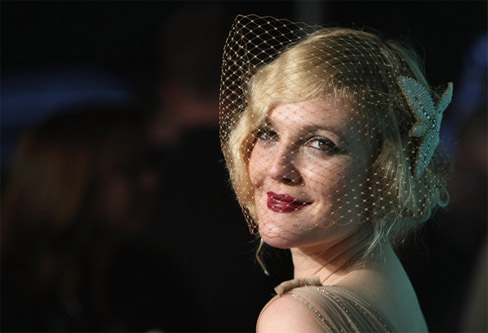 These veils do not extend past the chin and resemble many of the fascinators worn at events such as Ladies Day at Ascot. These are a very big statement and will show off how confident you are as a bride, they are very fashionable at the minute and tend to work well with the vintage 40's and 50's dresses that are currently so popular.
Shoulder length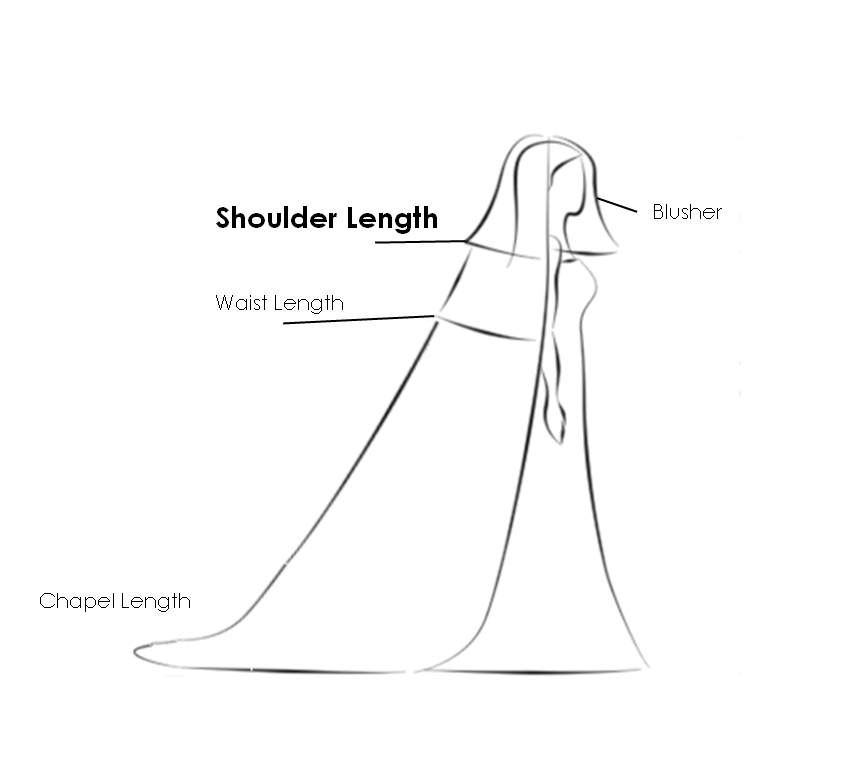 These veils are around 30" for a single tier and 54" for a double tier. They are perfect to allow you to show off bust, waist or back dress details and because they are very light they usually have a lot more volume than longer veils. This length of veil is fun and flirty but tends to be a bit relaxed for more formal weddings.
Waist Length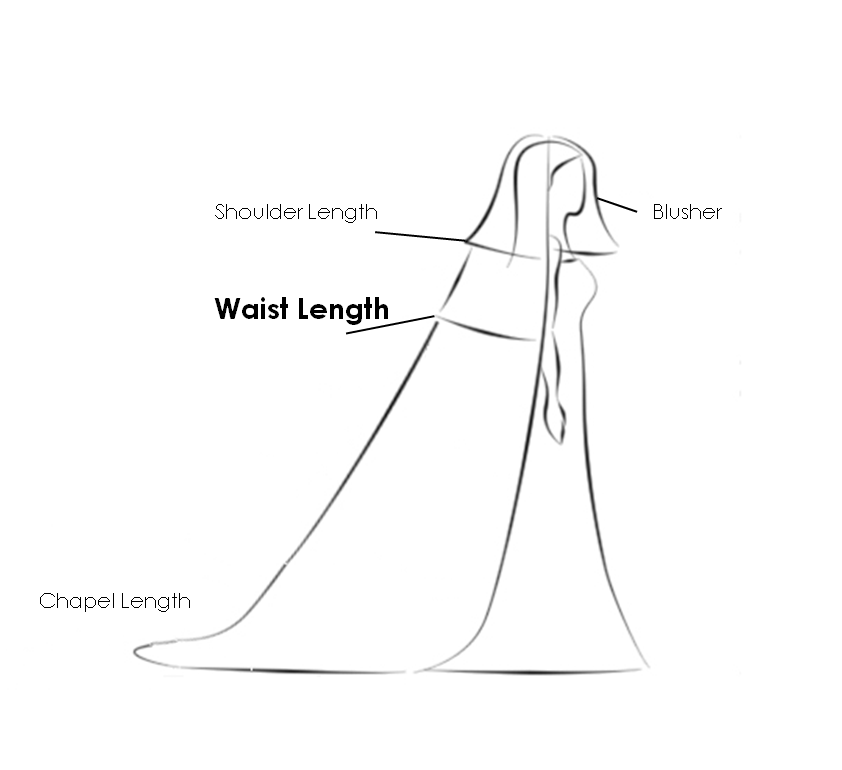 Waist length veils are typically labelled 72" for a double tier or 43" for a single tier. This length of veil is most popular with dresses that have a small or puddle train. This is a very good veil length if you were going to wear the veil in the back of your hair or wanted to show off any details on the lower parts of your dress.
Chapel Length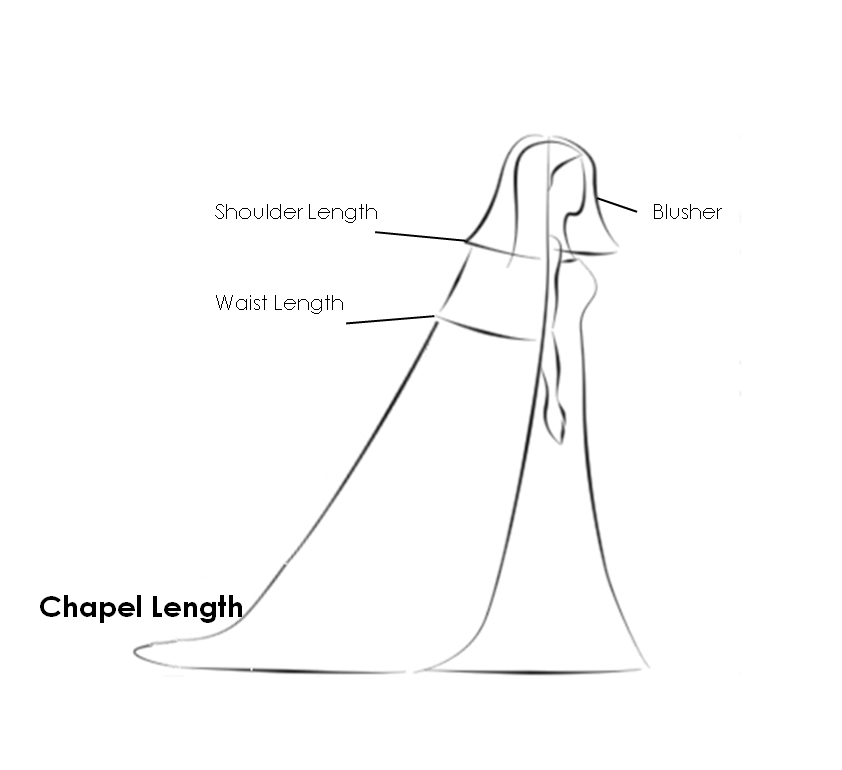 This length is often confused with Cathedral length and refers to veil that is a little longer than floor length. Typically double tiered veils are labelled as 126" and single tiered veils are 98" although there is far more variation at this length. Because some people call this length Cathedral, and a whole host of other things, it is important you try the veil on with your dress to eliminate any issues with interpretation.
This length of veil floats across the floor behind you and is perfect for more formal events and dresses with long trains. This length can add elegance to a more traditional look and give a real "wow" factor when you first walk down the aisle!
What Colour?
This sounds silly but your veil should match the colour of your dress. This was far less confusing a few years ago when dresses were largely ivory or white but with the addition of a plethora of new colours (Diamond white, Alabaster, Pearl, Light Gold, Blush, Champagne to name but a few) it is vital that you try a swatch of the veil colour that you would like to order next to your dress and if possible in a few different lights to ensure you have a good match, many veil designers offer 15ish different colours so getting one to match your dress shouldn't be an impossible task.
Tiers
Volume, volume, volume… as discussed above most veils come in a single or double tier and occasionally triple tiers;- these are measured in the same way as a double tier veil but are far less common. The more tiers you have the fuller the veil will be (with 2 or 3 tier veils you also have the option to wear the veil blusher covering your face)
Again the style of your dress impacts the design that you choose, a single tier veil can offer a modern, sophisticated look whereas a 2 tier veil can give an air of romance, particularly when you lift your blusher for your first kiss as husband and wife.
A short 3 tiered veil is very full and bouffant that suits 50's style dresses perfectly, these are less formal but could be the big wow part of your outfit that you might be looking for.
When decided what veil to wear you should also thing about your hair do and in general the more tiers your veil has the simpler you hair should be…